El primer trailer de la película "Star Wars: The Last Jedi" llegará junto con la Star Wars Celebration en el mes de abril, pero ya hay algunos afortunados que pudieron disfrutar de un primer teaser de la tan esperada película.
Recordemos un poco el final de "The Force Awakens", donde Rey (Daisy Ridley) encuentra a Luke y ella le muestra el sable de luz.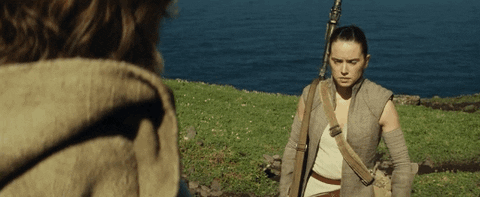 Ahora el trailer parece iniciar justo donde terminó esta escena:
Luke le pregunta a Rey "¿Quién eres?". Entonces vemos como ella maneja un sable de luz con habilidad; luego aparecen breves escenas con Chewbacca, General Leia Organa y Finn, también hay ligeros vistazos a todo tipo de lugares como montañas, océanos, bosques y desiertos; para finalizar vemos una escena de un X-wing tambaleándose en medio del aire, mientras lo atacan dentro de una nave gigante.
"Star Wars: The Last Jedi" es dirigida por Rian Johnson, llega a las salas de cine el 15 de diciembre.
Esta nota es patrocinada por: